Spring is the perfect time to start thinking about curb appeal.
Especially if you are considering selling your home in the upcoming months. There are some inexpensive things you can do to add curb appeal that will update and refresh your home and give any potential buyers a warm welcome.
Adding layers of plants will give more dimension to your porch. Pick things of varying heights, placing taller ornamental grass in the back and add drooping flowers to add a pop of color.
Applying a fresh coat of paint to a garage door is always a good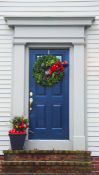 idea. Painting tip— it's always best to do exterior painting in cooler months so paint drys and is applied properly. And, speaking of painting, did you know that homes with a blue door tend to sell for more money? Crazy but true, at least according to a new study by Zillow. Or if your house has shutters, look and see if they could use a fresh coat of paint. By painting anything that looks faded or worn you revive the overall feel of the home.
Some other simple (and inexpensive) ideas are to give the house numbers a "pop" or add some to a display or wreath. You want your house to feel like home and give the potential buyer the same feeling. Or, replace old and outdated fixtures. Even if you don't change the fixture be sure nothing is cracked or broken.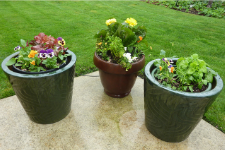 Pretty, well manicured landscaping is a big selling factor. The opposite is true as well, if a potential buyer thinks they will need to invest in some serious landscaping help they are less likely to fall in love because they instantly noticed a hurdle. You want that first glimpse to be all about what the house has to offer, not what it needs in terms of work or updates.
Have a boring garage door or just need to make it stand out? Add a garage door arbor and some pretty followers. Don't want to go that far? You can purchase a decorative garage door hardware kit and instantly update a standard door.
Revamp your welcome mat. Toss old, damaged mats and pick up a pretty new one.
Last tip, give your mailbox a makeover. Plant seasonal flowers around the base and frame it with stones.
Now, you're ready to sell!